---
Dear Fellow Countrymen,
Greetings for New Calendar Year 2018!
The year 2017 has been ended up, and rather we would say, a year; full of abusing our army and targetting our forces via petty dirty politics. There was an attempt to demoralize our army spirit to combat terror in Kashmir when a few stone pelters harassed army personnel, and the league of the editors kept mum. Major Gogoi who avoided the massacre of polling staff in Kashmir by tying a stone pelter in front of the jeep and escaped from there, was attacked by the pseudo-patrons of human rights. Mani Shankar Aiyar remained busy for whole a year in conducting a parallel diplomacy to support Pakistan, who would refuse this misdeed?
Further, we witnessed our Netas, Abhinetas and other celebrities lived with giving out controversial statements on every new day; just to get some media attention. Many of the times these comments harmed the reputation of our country on international fora and especially Pakistan received oxygen against India by these. Sometimes their statements and venomous speeches also attack directly on the sovereignty of our nation or even create enmity between two different beliefs.
We 'The Article' have documented the list of people who with their statements have directly harmed national integrity or disreputed the country on international fora. So we are launching a campaign to show the mirror to them that they are the detractors of India. We are announcing "India's Most Detractors Of The Year 2017" survey where we would like to invite you to vote for the merit list. The principle of this survey is the statement or action by a renowned and how it had harmed the sovereignty of our country or attacked the morale of the forces.
From today, we will publish about the five people every day to vote on their names until we cover 25 detracting personalities! After calculating vote shares during the entire campaign, the fight will go on for Top five detractors. Therefore…we urge you, kindly vote for Nation's Pride!
[Voting Options are at the end of this article.]
Today's nominations for India's Most Detractors 2017 –
1. Prakash Karat, Ex-General secretory CPI(M)
---
Misdeed:  This left politician once again fortified the party's anti-India stand as always. He wrote a piece to criticise the army chief's warning to stone-pelters becoming the hurdles to save terrorists during the combat. He said the army chief was reflecting the PM Narendra Modi's view on Kashmir, which is to "suppress" the people who are "voicing their political protest."
Consequence: Such patrons raise the confidence of the militants to attacked Indian Army, Indian forces faced a series of martyrdom on this year.
2. Vidya Balan, Actress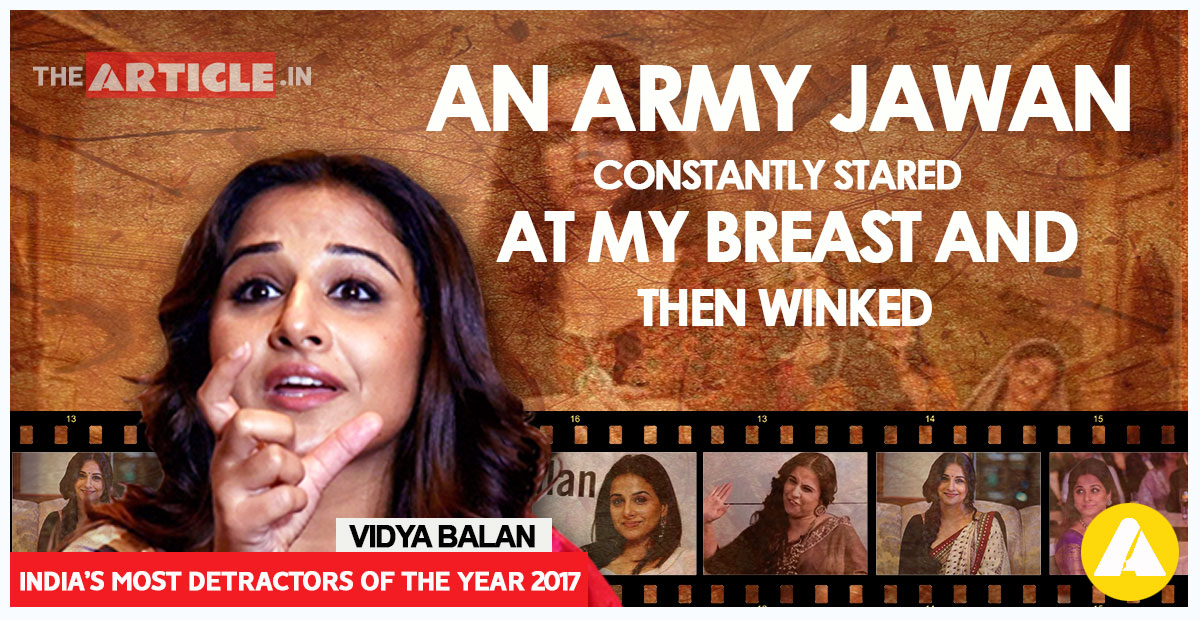 ---
Misdeed: an insensitive comment described above emerged out from the TOI interview for the promotion of the movie "Tumhari Sulu." While commenting, she forgot her pretension of doing movies like "Dirty Picture- a full of obscenity. "
Consequence: Branding as Feminist is much essential, even can encash by doubting the restraint and determination of our forces, we should do. Further, the comment allowed the scope to Anti-nationals to say Army did rapes.
3. Prashant Paricharak, Suspended BJP associate MLC from Maharashtra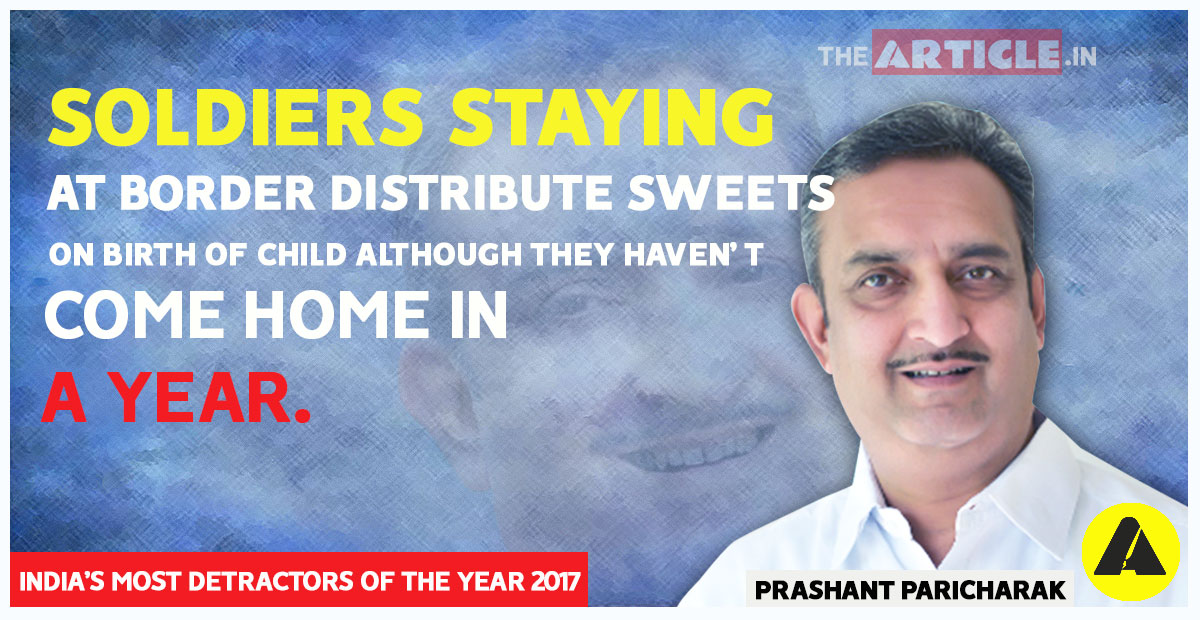 ---
Misdeed: Motor-mouth BJP MLC Prashant Paricharak made this derogatory comment during an election rally in Maharashtra's Pandharpur.
Consequence: We can understand why very few politicians are in our country who encourage their children to join the army.
4. Kodiyeri Balakrishnan, CPI(M) Kerala Secretary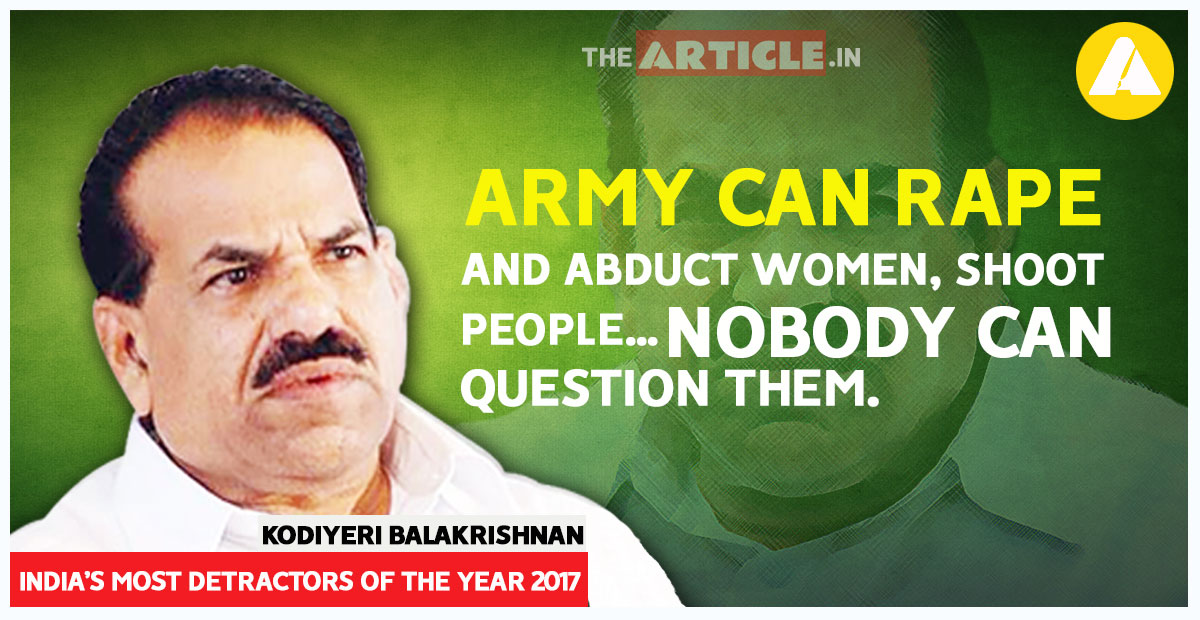 ---
Misdeed: This left egotistic leader brazenly abuses Indian Army in a seminar on the protection of minorities. He cried foul for AFSPA in northeast Indian states.
Consequence: Give a push to the clamor by Kashmiri separatists for staying Indian Armymen as the brutal rapist.
5. Manishankar Aiyar, Ex-Union minister and Congress leader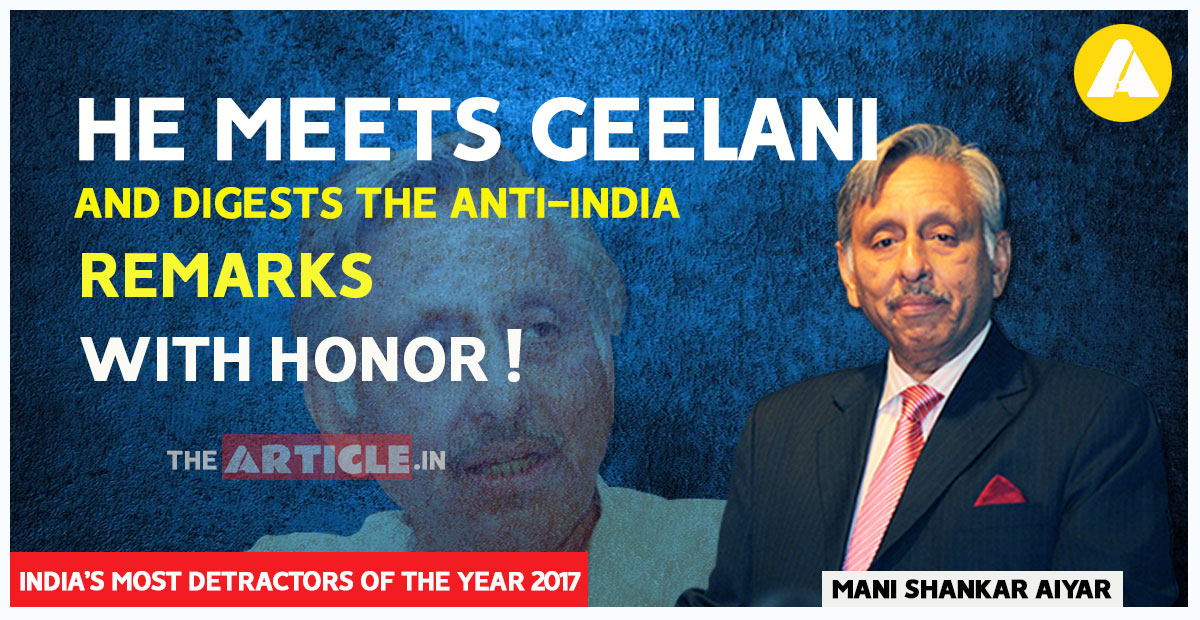 ---
Misdeed: Perhaps, he had made the lowest-level comment of Indian Political history when he called PM Modi 'Neech'. This green-eyed politician can be said to have a prurience to run a parallel government to break India and sell into hands of Pakistan. He had several attempts to derails the currently gained better position Of India against Pakistan. His whole year was full of treacherous activities.
Consequence: He is most eligible candidate for contesting the PM election in Pakistan
[zombify_post]