---

Inaction against death threats to Rohit Sardana tells how much Media Organisations take care of their TRP Makers?
Media was once considered as the vital pillar of the democracy. So it's very important for media to stay unbiased. But as we have been seeing media is largely dominated by the left wing ideology for considerably long time. We are not used to reading the absolute news as we are always served with the flavored ones.
But for past few years, as we can see, Right-wing dissent is also getting its deserved space. Credits to media mogul Subhash Chandra. Because it was not until Zee News Raised voice against the mediocracy of the mainstream media houses. Within a considerably less time, Zee News topped TRP charts. It became a voice of the commoner. Sudhir Chaudhary and Rohit Sardana were then faces of Zee News.
Both of them dismantled the convenient tradition of Muslim Appeasement and Hindu hatred. They soon grabbed a nationwide attention. As we know with the lot of fan following you also get abusers free of cost. Just like that, with the praise, they got abused severely by the left wingers and so-called secular and peace-loving mob. He was always backed by Zee group in every instance. After getting many positive talks he was offered a job in India Today groups AajTak. He joined Aaj-Tak from a career perspective. By the time severity of the threats was increasing. Being their employee India Today group was expected to provide him all the legal and moral support. He was receiving death threats from Islamic fundamentalists via twitter, phones, messages, and letters. It was the attack on the freedom of expression and his right to life. And the journalist community was supposed to stand in solidarity with Rohit. Because journalist community is always seen uniting whenever there is a threat to their freedom of speech.
When Prannoy Roy faced CBI raids on the account of monetary frauds whole of the media community stood by him. Press Club of India staged the protest in his Roy's support. Several journalists, anchors came out in his support condemning government and CBI. The same uproar is seen whenever a journalist is targeted or even interrogated. Hence same was expected in the case of Sardana as well.
But surprisingly no one in his support condemning death threats by peace-loving Islamic fundamentalist groups. No agitations were seen in his support, No marches, no statements supporting is dedication towards journalism. Let's understand that the community didn't wish to interfere with the Sardana. But what about India today group? Rohit is their employee hence it's their responsibility to offer him legal and moral support.
They have failed miserably to provide him with any legal or moral support. So he had to approach out of the organization for legal recourse. This is least expected. If they can't fight for their employee how they are going to fight for the people's right is the big question. He is the renowned face of the Indian journalism and his life is as important as others. We, at The Article, attempted to reach Supriya Prasad, Managing Editor, TV Today Network, India Today Group over the issue but the response is still awaited.
---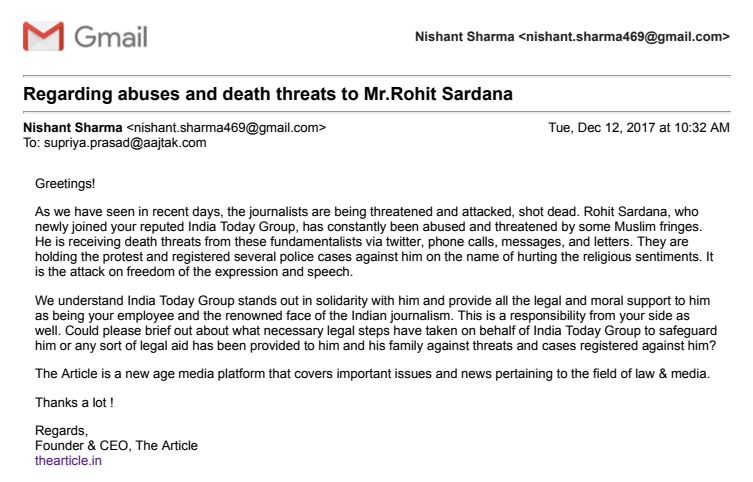 ---
During threatening days, Rajdeep Sardesai, his colleague was in Pune for Dileep Padgaonkar memorial lecture. He talked about journalistic liberty, threats to journalists but avoided speaking a word about his colleague getting serious threats from fundamentalists. What about his freedom of speech?
It was good to see when few news anchors came out in his support. Even BEA (Broadcasting editors association) released a statement condemning death threats to TV anchor and his family. But that was all from the mainstream media. But whenever mainstream media is silent, social media roars. Common people stood by Rohit. Soon #JoinMarchforRohit was trending on Twitter. The protest march took place from the constituency club to the press club in New Delhi. It was the people and lawyers who voiced against the persecution of Rohit Sardana's free opinion! The protest was a befitting reply to the condition of the whole of Journalist Fraternity who plays selectively when it comes to exercising freedom, rights, and ideologies!
When we had the conversation with a Senior Editor who has worked with Times Group, Rajasthan Patrika, and other reputed Dailies. On the issue how the media organizations look into the supporting their employees with a legal recourse at such point of time, he told us "Media organizations' outlook to render the legal help to their employees is very disappointing. So far, in my career of more than 20 years, I have seen the editors and journalists very much compelled. Though an anchor or an editor produces a lot of intellectual assets for his/her organization at own risk, he/she always looks for a legal support from the publishers/ owners as at the monetary front by own self, he/she remains incapable of fighting against the defamation charges or threats or any other cases. But owners/publishers for their vested interests behave like compromised with politicians or any powerful entity. They usually ask their journalists to tone down when the interests come in the way. The main worry a journalist deals with is his/ her family. In threat cases, the family also remains at stake and this family pressure breaks him/her down." He further pointed out that there is neither any policy evolved nor any budget provision done by media houses when the matter comes to safeguarding the journalists. Those guilds who outcry for the poor rank of India in Press Freedom Index, never rise for such reforms and neither demand an industry-wise initiative or policy development, it's very inglorious when we talk about Indian Media.
On the similar line, another editor of noted magazine throws back a disappointing answer when we looked for his view the subject –
"Most of the times journalists face the threats due to their personal matters, every time it is not possible to offer them legal help. If someone is receiving threats he should approach the police station for help"
-Ghanashyam Patil, Editor, Chaprak (Marathi)
We The article family stand in solidarity with Rohit Sardana and his right to free speech.