Controversial posts and tweets have become the fodder for religious clashes and outrages. India is seeing a stream of controversial posts deliberately perpetrated to hurt religious sentiments by pseudo-intellectuals. They successfully spark a rage among people and also hide behind the curtain of freedom of speech.
Kedar Kumar Mandal, professor of Dyal Singh College, Delhi University has been charged with insulting and passing lewd comments on Goddess Durga through a Facebook post at 7:43 pm yesterday. According to Additional Deputy Commissioner Chinmoy Biswal, He was booked under Section 153A and 295A act of India. The important question raised by organisations and Hindus from Delhi is why did he only choose Navratri to project such obnoxious posts?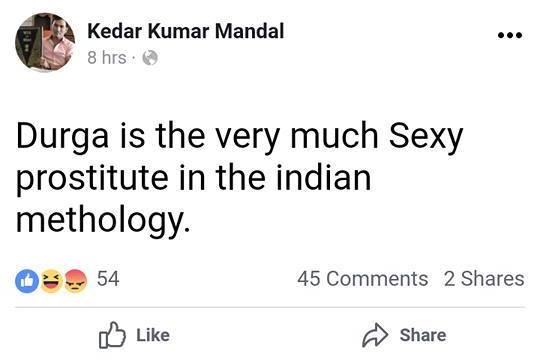 Paavan Chintan Dhara Ashram has also issued a letter to the SHO of Muradnagar, Ghaziabad asking the committee to take strict action on this mischief of the professor. The Secretary and the members have also signed the letter by PCDA against him.  The National Democratic Teachers Front have also protested against by adding a claim that Mandal also shared this post in 21 groups. Even Akhil Bharti Vidyarthi Parishad and the National Students Union of India have asked for his dismissal!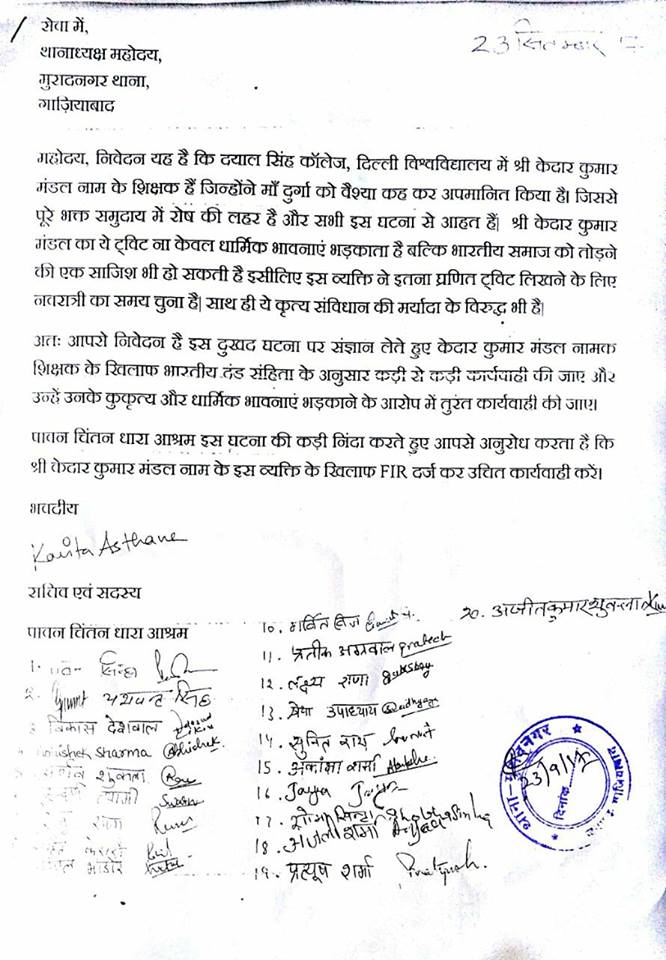 The facebook timeline of Kumar Mandal, a self-proclaimed ideologue, and a proponent of Phuleism and Ambedkarism is full of vilification towards Hindu sentiments. When they face friction from the Hindu groups and committees, a sulking rises of 'intolerance'.  But these intellectual snobs avoid any opinions and discussion when it comes to riots or communal clashes sparked by radical minority groups. Is this really Freedom of Speech? Have there been any similar posts about other religions? Would they ever tolerate such denunciation??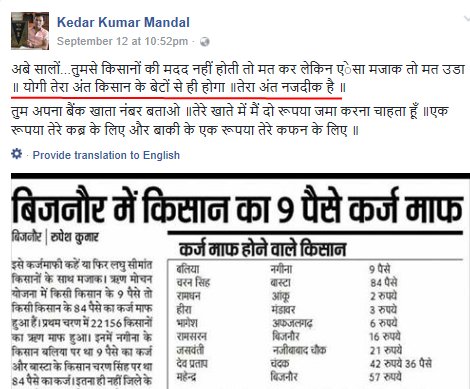 Basirhat in West Bengal witnessed communal violence after an alleged offensive Facebook post on Prophet Mohammad, which alone is the latest example of how much tolerant are people from other religions. Blessed ignorants totally avoid any comments or criticism about such incidents.
Time and again, Hindu Festivals have seen a lot of no-brainers from these so-called enlightened and eminent personas. Mahishasur Martyrdom Day row, Lord Ganesha lamb eating Ad, Navratri Condom Ad, and now this! Hindu festive season has become a junction of criticism and is still being a constant prey of anti-religious elements. And this peculiar phenomenon to malign Hindu traditions is on the rise in the recent years. Also, the cries "Hindus are intolerant" also come's an incentive to this propaganda
[zombify_post]