---

For any sovereign nation across the world, it is mandatory to maintain its strong military force. Building the moral of the army is as important as updating it with the latest warfare technology. Hence government conducts many programs to commemorate armed forces. Many NGO's and other organizations undertake such initiatives which surely help in expressing our gratitude towards the army.
'Armed Forces Flag Day' is one among those conducted by the initiative of the defense ministry. It is conducted on 7th of December every year since 1949. The principal motive of the flag day is to collect funds for the welfare of ex-servicemen, War Widows, and rehabilitation of the disabled servicemen.
This is a special type of fundraiser drive. It is conducted all over the country among the people of all age groups. The basic idea of the fundraiser is to distribute small flags in return for donations. This distribution is carried out by various government organizations and many voluntary organizations on different levels. KSB (Kendriya Sainik Board) a body under Defence Ministry, carries out the major distribution drive.
On the district level, the fundraising is done through high schools. Many schools including the rural ones take an active part in the fundraising campaign across the villages.
We always wish to do something for our soldiers but we don't exactly know what and how to do. So here is the chance that you might not want to miss out. Now it is easier to make donations for Army than ever.Army also organizes various programs involving exercises, carnivals, thrillers to showcase their skills.
Just visit the official website of Kendriya Sainik Board and make your contribution towards flag day fund. You can do it either offline or online using your credit or debit card. As well as you can use apps like BHIM and even Paytm Wallet.
Paytm No for Payment: 8800462175
UPI
id: armedforcesflagdayfund@sbi
Bank Details:
---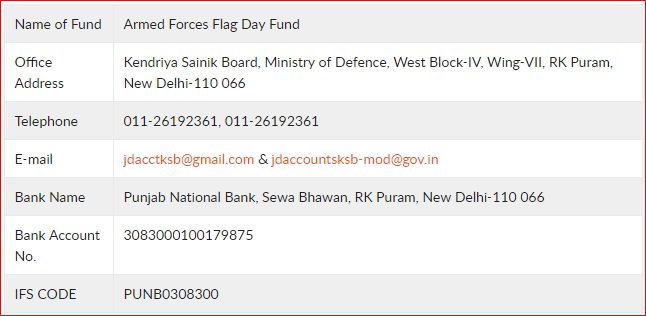 ---
So what are you waiting for? Just give your contribution and stand in solidarity with those who gave up on their life in safeguarding our country.
Note:-
Contributions to Armed Forces Flag Day Fund are exempted from Income Tax vied Government of India Notification No. 78/2007 dated 26 Mar 07 and under section 80 G (5) (vi) of Income Tax Act, 1961 vied Director of Income Tax (E) letter No. NQ.DIT (E) | 2010-11/DEL-AE22280-04012011/2186 dated 04 Jan 11.