---
If not Narendra Modi, then who will be PM candidate if BJP falls short of the majority in 2019? on this line, you read the opinion presented in one of our articles – 

From Passport to Power: The Purpose of Secularism is Secularism of Purpose!

Now, there is an interesting counterview to the piece by our fellow author – "Modi needs 230+ seats, and he will be PM once again." 
Sushma Swaraj for Prime Minister. This is music to the ears of opposition that is hoping Modi led BJP may not be able to get past '250' mark. Crossing even 230 gives a good chance for Modi to remain firmly in the saddle for another five years. But, who knows? There may arise a situation when BJP would win about 200 seats and falls short of the majority by a good 70 seats.
Even in such case, Sushma Swaraj becoming a choice is farfetched considering the Realpolitik. The overhyped Bhakts may be wanting Modi to act against Swaraj for harboring and acting to promote her ambitions for the prime position. What they forgot in their piety was Modi knows all cards including the Queen of Hearts, well. And, he knows when to open his cards.
The first obstruction to Sushma Swaraj's ambitions is Sushma Swaraj herself. Her proximity to Reddys of Bellari would never allow her to go close to the top chair. The stories of her attending 'Vara Lakshmi Puja' at Reddy's home and the golden presents she received were folklore of pre-2014 days. Why could Yeddyurappa become head of BJP with much ease even after maligned by corruption charges? The answer to this question is of utmost importance to the puzzle of 'Sushma for PM.'
Yeddyurappa wanted to act against Gali Reddys immediately after the charges of illegal mining operations sprouted. How could Reddys smuggle lacs of tonnes of iron ore out of India? It was only with the help of Reddys from the other side of the border. Trucks carrying iron ore travel less than 100KM in Karnataka but travel more than 300KM in Andhra Pradesh to reach Krishnapatnam (then it was in nascent stage) port. And, there was a levy on each truck (maybe ₹100/-) levied by Karnataka government, but there was no such levy in AP! This caused an uproar in Andhra assembly accusing the then CM of Andhra Pradesh, Rajasekhara Reddy.
---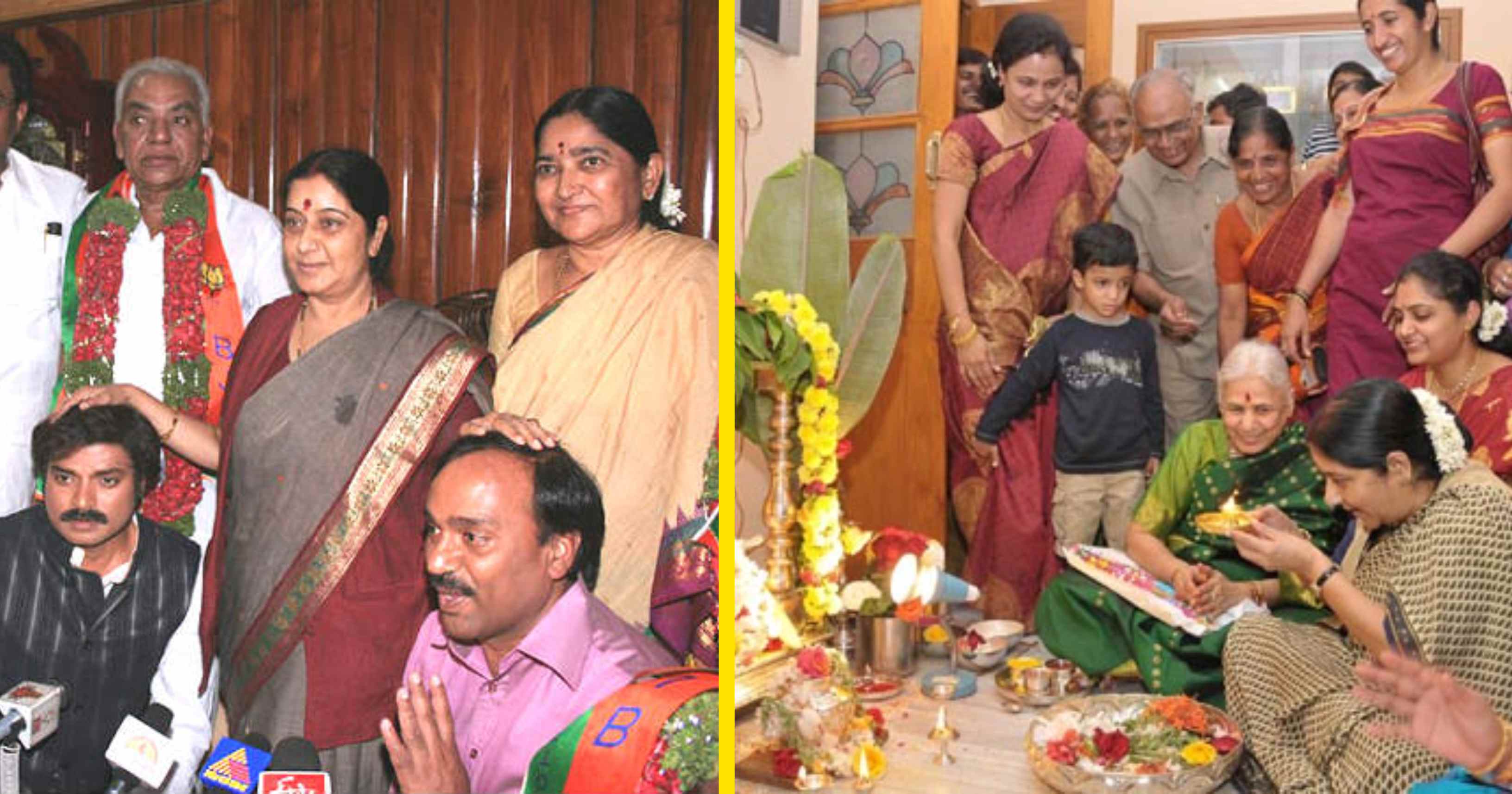 ---
Being a Sanghi, Yeddyurappa was against this nexus between Reddys from both sides of the border. However, he could not act against Reddys. In fact, even his government was on the verge of falling because of his attempts to prevent the illegal mining. And, who supported the Reddys then? It was the God Mother from the Delhi, who was shielding them by twisting the arms of Yeddyurappa. But, as Congress was already being fried for 2G and Coals scams, BJP couldn't afford to be seen supporting illegal mining and so Reddys had to go. But, the delay in acting against them cost BJP severely. Not only Yeddyurappa had to go, but even the state was also lost. This just confirmed how naïve Advani camp was in estimating the public mood.
The loss of BJP in Karnataka, however, was not the loss of Yeddyurappa. For him, it was a setback, though a severe one. It dented his political career but not his image in public. That was the reason he was brought back into party fold by Modi soon after he assumed the office of Prime Minister. But, sadly even in the last elections, Yeddyurappa was not the 'real' in charge of the party. Compared to Siddharamaiah, who had a free hand in selecting candidates to oversee entire poll preparations, BJP controlled everything from Delhi. The irony is uncharacteristic to both parties; decentralization is creeping into Congress (because of weak high-command) while BJP is becoming more and more like Indira Congress.
It is a point for BJP strategists to note that it was individual leaders like Modi, Shivraj, Raman Singh and Raje who ensured the party's hold remain strong in the states. Of course, the contribution of Swayamsevaks from RSS could never be forgotten. They are the silent warriors of BJP, while the social media supporters serve the purpose of being the front face of the party.
Now, even if BJP gets fewer seats as Sushma and Advani or their supporters are wishing, the moment Sushma Swaraj throws her hat into the ring, these photos of her blessing Reddys would be splashed across televisions sets and newspapers. This will happen even if it was someone outside of BJP who proposes her name.
Consider the worst case scenario of some ally arm-twisting BJP to select someone other than Modi for PM. There is Nirmala Sitaraman, and her name would immediately bring the support of DMK who is expected to clean sweep Tamilnadu in next elections. And DMK would very much like to be part of any government.
But, believe me, things won't go that far. Why? Modi's BJP is not like the one led by Advani's BJP. True, they may lose Rajasthan state elections, and the tally from Bihar and UP also may be less than what it was in 2014. The opposition, as of today is as incoherent as the third front ever was, except for the fact that now Congress is part of the so-called third front. Already Congress announced there would be only statewide alliances and not at national level. As long as Congress gets less than 100 seats, it is easier for BJP to divide the opposition. And, even without any efforts, Naveen Patnaik may support Modi for another term as he would prefer to deal with a stable center. Of course, he may not join the government but supports it from outside as BJP would be the principal opposition party in Odisha.
The jolt that BJP is expecting to receive incoming state elections would spur the party and will catapult it again to pre-2014 model. And, the same would push the opposition parties into complacency. The opposition lacks charismatic leaders like Jaya Prakash, VP Singh-NTR duo who could command respect. Nor do they have seasoned negotiators like Surjit Singh Barnala. Even the former trouble-shooter of Congress, Pranab Mukherjee is not available for them. They only have Sharad Pawar who can try to put some sense into all those parties that try to pull the chair towards them. And, there lies the strength of Modi.
All Modi needs to win 2019 is a good monsoon season and a bumper crop. The perennially miserable middle-class would only vote for him because they are wary of others. The hold of the BJP over the marginalized sections has increased over the years. Modi needs only 230+, and he will become PM again.
Further, read more:
From Governor's rule in Kashmir to 2019 Elections: One Grand, but Risky Plan