---
To put it in simple words what is the crowdsourced delivery services, is that you can understand from the one of such experiment brought by mShipper. mShipper is a crowdshipping portal that connects registered consignment senders with freelance shippers. The startup offers this service for addresses in Delhi-NCR at present, and plans for expansion are on drawing board.
mShipper can help businesses in improving customer service level, reducing budget for transportation, and to contribute towards reducing carbon footprint as well. On the other hand, registered shippers can earn considerable amount of money by accepting parcels that can be delivered while on their way to day-to-day work.
What is the magic rule?
Sender needs to post details about their consignment on mShipper portal, and within few minutes, sender would receive bids from shippers who are in the nearby areas. You can also perform this procedure with mShipper's Android app.
Senders can choose the bid that is most economic, competitive, and offers faster delivery. After choosing the shipper and paying fees using escrow account, the shipper collects the concerned parcel within thirty minutes and sender validates unique pick-up code on the portal.
Freelance shippers registered with the startup have cleared three different verification layers. Sender can track his/her shipment with real-time GPS tracking. Shipper delivers the parcel and validates the delivery pass code, then immediately gets his fees from the escrow account.
Shippers can also plan and share their day's scheduled for traveling on various routes in advance so that senders can place their request to pick up their parcels.
Anyone who is of age 18 years or above can register and become sender/shipper. Registration also involves identity and address verification process. Users need to complete small documentation procedure as well.
---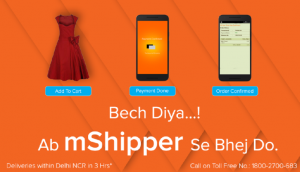 ---
If Frank Martin can transport, why can't anyone else?
Ranvijay Singh, the founder of mShipper says, "I am a fan of Hollywood movies, and the movie 'Transporter' inspired me to start working on mShipper's idea. In this movie the character 'Frank Martin' played by 'Jason Statham' is an 'Independent Transporter' who makes his living by transporting goods/packages from one place to another at his own risk. If Frank can make money as freelance transporter, why can't others?"
"I always believed that I am here for something new, challenging, and innovative. During the last seven years, I conceived two-three more startups, but couldn't take them further because of absence of motivated team. I chose this startup to take on because of the support of my co-founders. Without them, mShipper would have had never seen daylight," said Ranvijay while sharing details about startup's journey so far.
Shippers better not expect bag containing Shu Qi from senders because mShipper only deals with small packages/parcels, not big bags.
The startup manages day-to-day operations with its seven to eight panels that handle processes like user registration, order management, mobile wallet, synchronization of orders and freelance shippers. Startup's portal (website) can be accessed with PC as well as smartphone.
Decided to walk down the less traveled lane
"We dropped ideas which were lately conceived and followed by others. Startups based on those ideas are doing well. I think the riskiest step that I took was selecting mShipper's concept amongst all the available ideas," said Mr. Singh.
While explaining how their startup is different from others, the entrepreneur said-"The first difference is our crowdsourced model, and its positive externality. Startup would require no inventory and infrastructure to replicate its model in different cities."
Startup is into hyper logistics (a part of express logistics industry) and does not face any direct competitors as of now. mShipper can prove to be life saver for e-commerce portals and food tech startups that are struggling to save delivery related costs for survival.
His team is the biggest motivation factor for Ranvijay. At present, the startup consists of 25 team members, including its co-founders. "Starting from the end of November 2015, we have got more than 1000 freelance shippers (delivery guys) and 10 senders (retailers/e-tailers) with average daily orders of 50 and average daily revenue of INR 5000,"-said the startup's founder.
Who are running this show?
Ranvijay Singh is the founder, while Saurav Sagar and Vishwa Bhaskar are co-founders. Kamlesh Kr. Chaurasiya is startup's chief financial officer and and Vishal Bhosale is its chief technical officer.
Ranvijay is commerce graduate with more than seven years of work experience in business consulting, technology sector and chemicals.
Co-founder Saurav Sagar is also the startup's chief operating officer. He has done Masters in Computer Application and has worked with top companies like MacMillan and IBM.
mShipper's marketing and other strategies are planned by IIM Lucknow Alumni-Vishwa Bhaskar as startup's CMO.
Team does not have to worry about taxation and financial aspects as chief financial officer Kamlesh Kr. Chaurasiya has considerable work experience in the same. He is a Chartered Accountant.
Pritam Patil is also another important part of this startup as he manages product development and architecture part. As of now, the startup has 25 team members including co-founders who are responsible for growth and target achievement of the company.